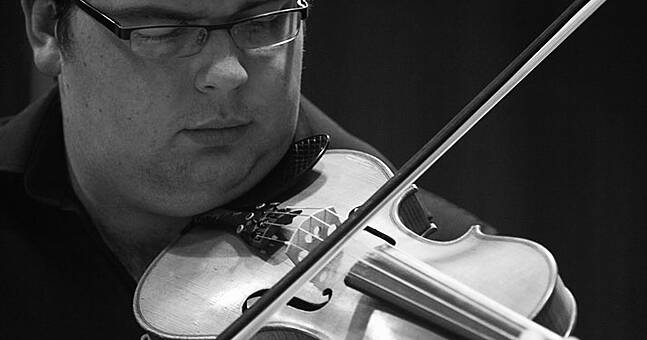 Album review: Damien McGeehan – Kin
Donegal violinist Damien McGeehan traces a sprawling landscape of musical influences ranging from traditional music to Senegalese kora music on his second solo album, Close. Rooted in the melodies of Irish music, the project takes the listener on a journey of musical fluidity. Photo: Danny Diamant.
Damien McGeehan slides between and mixes several genres on his second album, Close. At one point, he played a traditional Highland tune before pivoting to Richard Thompson's "Strange Affair". Follows a jazz number influenced by the streets of New Orleans. It's an undeniably eclectic album that gains in energy as it progresses.
Beginning with 'An Chéad Chatlann', the listener is immediately immersed in a tense soundscape of bluesy guitar, jazz accompaniment and traditional melodies. McGeehan's violin playing is fluid as he bridges the gap between each genre with his superb instrumentation. The track rises in intensity before an upbeat rhythm guitar is introduced. He develops the piece with drums steeped in rock under the beautiful reel played on violin and flute. The track continues to grow as it incorporates more jazz percussion into the mix and we move onto the second reel before the sudden, dramatic conclusion.
"Dúlamán na Binne Búidhe" follows, and McGeehan is joined by his sister Michelle on violin and rockabilly guitarist Darrel Higham. McGeehan shows off fantastic bowwork as he confidently delivers every crystal-clear note before plucking the pizzicato strings to show off his musical skillful hand. This piece blossoms on the rhythmic rhythm of percussions. Higham gives the song a certain edge with its rumbling chords and attitude loaded solo in the middle of the room.
The world music maestro gives his take on Richard Thompson's "Strange Affair" with Shauna Mullin providing perfect vocals. Mullin's performance is brilliant and she almost fools the listener into believing it is his song. Her gorgeous voice is enhanced by the use of her undiluted Irish accent which gives the song an authentic folk feel. It injects more meaning into the already emotional melody. McGeehan shows here his experience as a session musician, as Mullin's voice is the center of attention as the music accompanies his singing instead of taking over.
'Runnin' on Bourbon 'was inspired by McGeehan's time on Bourbon Street in New Orleans, reveling in the sounds and atmosphere of the birthplace of jazz. The dynamism of this setting is perfectly captured here. Samba-style percussion under the sparse jazz trumpet depicts a busy, bustling street as McGeehan uses his energetic violin playing to paint himself center stage. The contrast between traditional violin and jazz influences is not only most evident on this track, it is also a shining example of how instruments are connected.
On 'The Girl & The Lass', the track opens with a childish lullaby before transforming into an ambulatory slip-jig played by McGeehan on the octave fiddle. The musician's instrumentation is here in the foreground. It effortlessly winds through the melody adding sparkling embellishments like notes of grace and trills as it goes. The texture of the piece is enriched as a double bass and a violin come to develop it.
"Errity's Jigs" is a collection of melodies composed by McGeehan in honor of his uncle, John Errity. McGeehan cuts his loose bow hand on three jigs; 'Worskey's', 'The Flying Lure' and 'Errity's Jig.' Of all the traditional soundscapes on the album, this facet is the most traditional. With fantastic tone and notation, the performer flies around the neck of the violin to allow melodies created by himself to flourish.
Tom Waits 'The Briar And The Rose' from his 1993 album The black rider helps the album relax with Shauna Mullin providing softer, warmer vocals. Mullin's smooth delivery is a far cry from the hoarse, growling voice of the great Tom Waits. The smooth but powerful performance perfectly accentuates the music beneath it. Rising strings and a finger plucked guitar undermine the melancholy melody as McGeehan once again demonstrates his fantastic ability to organize the accompaniment of a singer.
Close combines McGeehan's background as a session musician with his time as a third of Donegal's "Fidil" fiddling trio and his experiences as a touring artist. This makes it a diverse, cinematic and elegant record. Traditional mergers aren't new, but few can seamlessly blend so many different genres at once while each remains distinct like McGeehan does on this record. This is what makes Kin such a unique and compelling record.
Listen to: "Runnin" on Bourbon. "
Flux Close below.