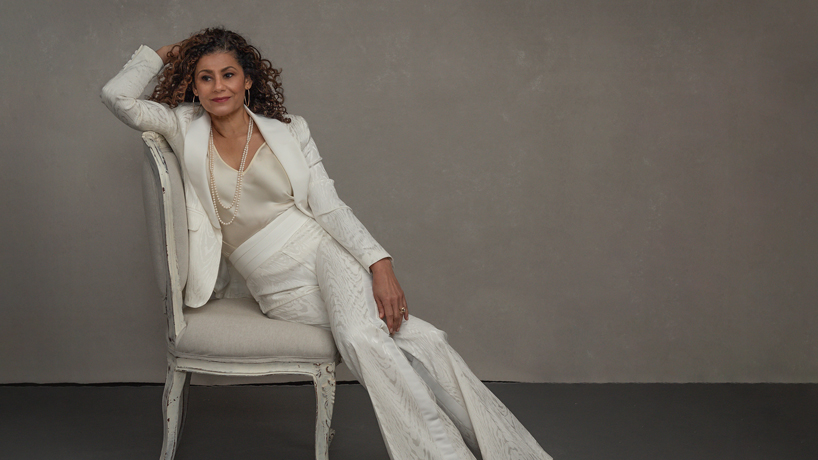 Alumna Karla Harris to headline 'An Evening of Jazz with Springboard to Learning' at alma mater on June 11 – UMSL Daily
Karla Harris expects to fight a few more butterflies than usual when she takes the stage Saturday night and watches an audience of familiar faces seated in the E. Desmond and Mary Ann Lee Theater to Blanche M. Touhill Center for the Performing Arts.
"It's a little nerve-wracking to think about singing for people you know," Harris said. "For me, it's more difficult than singing for strangers. Still some nerves involved!
Harris, an Atlanta-based jazz singer with three albums to her name, will headline a "A jazz evening with a springboard to learningin what will be her first time singing in her hometown since 2005, and there will be no shortage of family members and friends.
She will perform alongside old friends who were part of the venerable Gateway Jazz Ensemble, including jazz pianist Rick Zelle and Harris's mentor, Jane Trevor, known as the First Lady of St. Louis Jazz. The event benefits Springboard to Learning, a non-profit organization committed to integrating the arts into the learning of economically disadvantaged children across the region. For decades, the Gateway Jazz Ensemble has performed hundreds of concerts under Young audiencea part of Springboard to learning. During the performance, Trevor will receive a proclamation acknowledging his work with the organization.
Harris is happy to be heading to her hometown for the event and considers it fortuitous that she is performing on her alma mater's campus, after earning her bachelor's degree in speech. Communication with a certification to teach theater and speech at the secondary school level from the University of Missouri–St. Louis in 1986.
"They had looked at other places as well," Harris said. "The fact that I'm going to play my alma mater was another unexpected thing that I'm looking forward to."
Harris, who grew up in Ballwin and graduated from La Fayette high schooltransferred to UMSL after beginning his studies at what was then Southwest Missouri State University in Springfield, Missouri.
She described feeling homesick living away from her family the first time around, and her return allowed her to live at home and travel to campus.
"It was just a better choice for me at the time," said Harris, who worked part-time as a bank teller and also joined a sorority while working on her degree.
She loved words, and that's what prompted her to choose voice communication as her specialty. Although she didn't end up teaching high school students, she put her degree to good use while working in public relations, which she continues to do on a freelance basis today.
But music has always been Harris' passion.
"Growing up, I always sang," she said. "It was just something I did. My mom says she remembers me singing in the grocery cart when she pushed me into the store. I was always in bands, always in a choir. But I didn't have any professional musicians in my family, so it didn't feel realistic. It felt like something some magically chosen people had to do, and to me, that was pretending.
She pretended a lot, spending Saturday afternoons singing in her living room as if appearing on "The Carol Burnett Show" or organize impromptu concerts for relatives visiting during the holidays.
As Harris grew older, singing remained primarily a hobby. She performed with Alliances on weekends and was invited to join the Gateway Jazz Ensemble, led by Trevor, while a student at UMSL.
"Rick Zelle knew me by the bond of being in the same high school and both living in the same area," she said. "One day he called me and told me about the band and he was like, 'Jeanne doesn't want to do these more contemporary songs that we want to put in the set.' The aim was to introduce children to jazz and give them a wide range of music through the years and how it influenced rock and roll and then more contemporary jazz.
Harris had grown up with jazz records in his home and enjoyed the art form. She also liked the idea of ​​earning a little extra cash to keep gas in her Ford Pinto.
It wasn't until years later that she learned to appreciate the wealth of talent she got to play with in the band.
Trevor, in particular, was supportive of Harris.
"I was green," Harris said, "and she welcomed me. She made me feel completely at home. And I learned so much watching her.
Harris performed with the Gateway Jazz Ensemble for three years but quit shortly after graduating from UMSL. Around the same time, she married her husband, UMSL alumnus John Harris, who graduated in applied science. mathand they started to build their life together.
She continued to sing with several pop groups in clubs around St. Louis as she started her family. But it wasn't until years later, after meeting and starting to sing with the bass player. Tom Kennedya native of St. Louis, that Harris began to think she might make singing her main career and delve more into jazz.
"Tom wasn't on the road, and he wanted to start his own band and try to work more locally, and we were on the same gig," Harris said. "Later he asked me if I would be interested in singing with his jazz combo he was putting together. That was the beginning, in a roundabout way, of when I really started to take it more seriously. Because it was a golden opportunity and I was working with an incredibly experienced and knowledgeable jazz artist.
It was with Kennedy that she began recording music while still in St. Louis. Their album "twice as pleasantwas released in 2007.
Harris had moved to Portland, Oregon, in late 2004 after John moved for work. After initially taking the time to settle his family near the West Coast, Harris eventually found his footing in the Portland jazz scene through a few jam sessions. From there, she started getting regular gigs.
"I worked with a lot of people frequently who did a lot of really cool things, and they were very encouraging," Harris said. "It was such an evolutionary time in my musical journey."
John transferred again in 2012, this time to Atlanta, so Harris moved across the country and began to build relationships and find opportunities in a new jazz community.
Two years later, she released her second album, "Karla Harris sings the Dave & Iola Brubeck songbook," through Summit files.
His career has continued to grow with a list of performance credits that includes the Sarasota Jazz Festival, Portland Jazz Festival, Oregon Coast Jazz Party, Nantucket Arts Festival, Siletz Bay Music Festival, Atlanta Jazz Party and the 'Atlanta Jazz Festival.
Harris released her third album, "Certain elementsin 2019, and it was the first to feature some of his work as a songwriter. The album reached number 44 on the Jazz Week chart. Two of his original songs from the album, "Interlude" and "When Michael", achieved semi-finalist status in the International Songwriting Competition.
Since 2017, Harris has also worked as Artist-in-Residence at the Jazz Studies Department at Kennesaw State Universitywhere she teaches applied vocal jazz to aspiring singers, one-on-one and in combos.
The pandemic kept Harris from performing regularly for more than a year, but she has returned to the stage at concerts in recent months and is set to embark on a short tour of North and South Carolina.
"All the things I do now are all things I dreamed of when I was little," Harris said. "But I just couldn't see how that could be true. It's pretty cool looking back, and I can't wait to see what's next – the performances and music to come.
Including being in front of friends and family – and sharing a stage with Trevor – on Saturday night at Touhill.
Short URL: https://blogs.umsl.edu/news/?p=93981