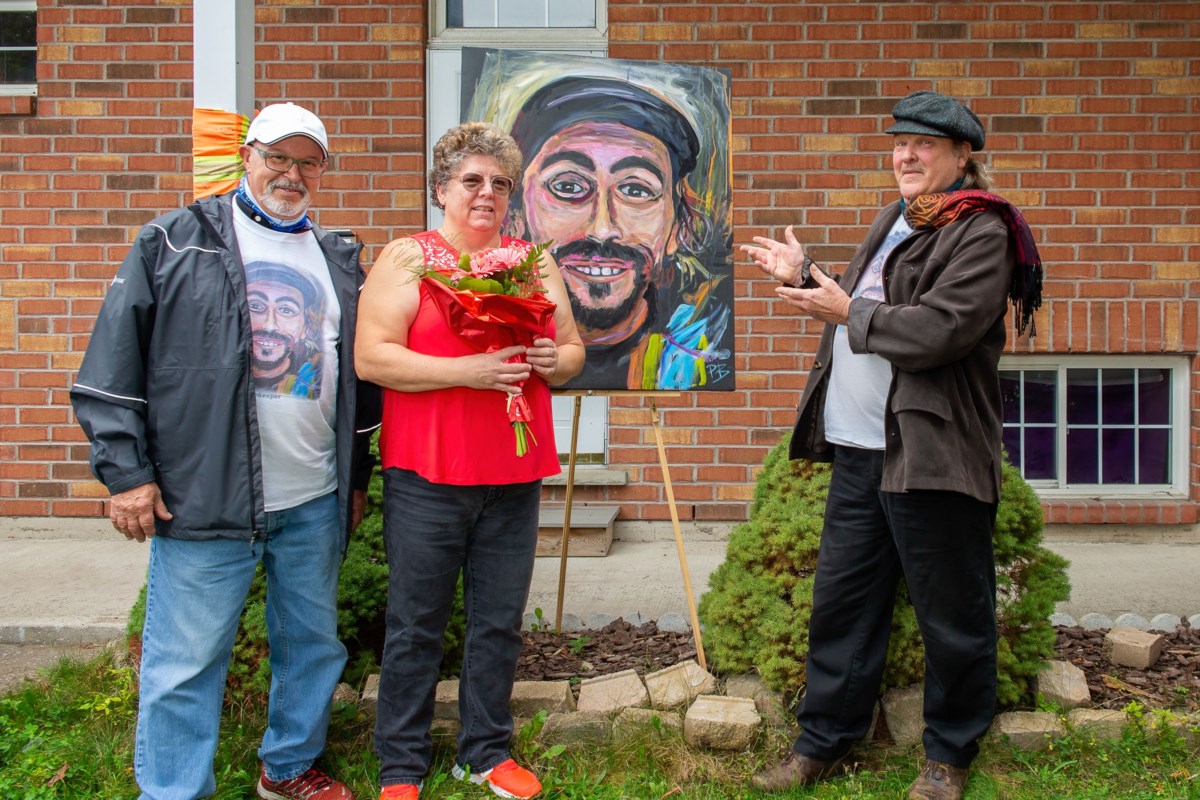 COLUMN: Tribute to a beloved volunteer shows the art of generosity
During the pandemic it was like arts and culture were stuck and now it's bubbling on the surface, says arts and entertainment columnist
Lots of snatches and bobs and a lot of planning ahead in our cultural world these days which is so wonderful to see. It's like everything is blocked and now everything is bubbling on the surface.
First of all, I want to remind everyone that the deadline for nominations for the Orillia Regional Arts and Heritage Awards is Monday October 18th. There are five award categories including Emerging Artist, Heritage, Education, Event, and the Qennefer Browne Achievement Award. for someone who is a true champion of the arts or of heritage in our region.
The nomination process is completely online and easy to do. Please take the time to nominate someone today; it is a real honor and it will mean a lot. You can find out more and name someone here.
Second, something really special happened recently that was a bit under the radar. Local artist Paul Baxter painted a painting at the Rendezvous on the Patio event this summer.
He painted Chris Bellchambers, a beloved volunteer and friend of many, who tragically died this summer in an accident. Baxter painted this lifelike, live portrait on the back of the Orillia Downtown Management Board truck… on which is a mural that Baxter also painted.
Baxter wanted the painting to have meaning and wanted to help the Bellchambers family. So, with the help of the Chamber of Commerce events coordinator, Doug Bunker, Artech and Hartley Haus here in Orillia, t-shirts were made and sold with the image of Baxter. by Chris Bellchambers on the front.
A presentation of the sales funds, t-shirts, flowers and the original portrait was made to Chris Bellchambers mother Sharon last week by Bunker and Baxter. It was an emotional moment, beautifully captured by local photographer Deb Halbot. These are the moments and the people that make Orillia such a wonderful place to live. Thanks for donating, Chris.
Now for a lot of bits and bobs:
This weekend is the Orillia Jazz Festival weekend! And thanks to the lifting of capacity restrictions on government of Ontario theaters and concert halls, a few additional tickets are available for certain events, including Oscar Peterson The Jazz Legend and The Man I Knew by Lance Anderson. Check out all the shows here or get your tickets here.
This Friday from 6 p.m. to 9 p.m., the Cloud Gallery, located in the Creative Nomad Studios, is organizing a private viewing for a personal exhibition of the work of artist Miriam Slan. You must take a free ticket to attend, and you can grab one here.
This Saturday, artist Murray Van Halem is leading a cityscape painting workshop at Creative Nomad Studios, click here for full details and to register.
On Saturday October 23, the Mariposa Folk Festival is organizing five satellite concerts across Orillia, to give us a taste of Mariposa after two sad summers without Mariposa. There are afternoon shows at St. Paul's, Braestone Farm, ODAS Park, the Best Western and the Orillia Opera House, featuring many Mariposa favorites including The Doozies, Danny Michel, Coco Love Alcorn, Suzie Vinnick and many more. For full details and to purchase tickets, click here.
October 23 is also the first concert of the Orillia Concert Association season 2021/22, and it's virtual! Sinfonia Toronto, an incredible 16 piece string instrument ensemble, will impress you with its artistry and precision in this special show.
When you buy tickets for the Orillia Concert Association, you are purchasing them for the entire series, which also includes a virtual performance by clarinet virtuoso Peter Stoll on November 28 and in-person performances with Sonic Escape, the Royal Hamilton Light Infantry. and the Toronto All-Star Big Band, all in 2022. For more information and to purchase a subscription, click here.
The Orillia District Arts Council (ODAC) has been busy during Culture Days, which this year runs from September 24 to October 24. There have been several in-person and virtual events already, and you can find the virtual ones, including a tour of the Streets Alive hippie vans, on the site here.
ODAC will close Culture Days with a FREE concert with the Ronnie Douglas Blues Band at St. James's Anglican Church on October 23 at 8:00 p.m. and tickets can be purchased here.
And finally, on October 30, Jacquie Dancyger Arnold and Hugh Coleman, along with special guests Laura Aylan-Parker, Ross Arnold and Gail Spencer, are hosting a fundraising concert for the Orillia Museum of Art and History. , aptly titled, Music for the Museum. There are two shows at the St. Paul Center, at 2 pm and 7:30 pm Tickets are $ 25 each and can be purchased at the museum in person or picked up here.
There are many more to come in November, but we'll save that for a future column! Enjoy the Jazz Fest weekend!
If you have any arts news, send it to [email protected] by noon Tuesday to be included.