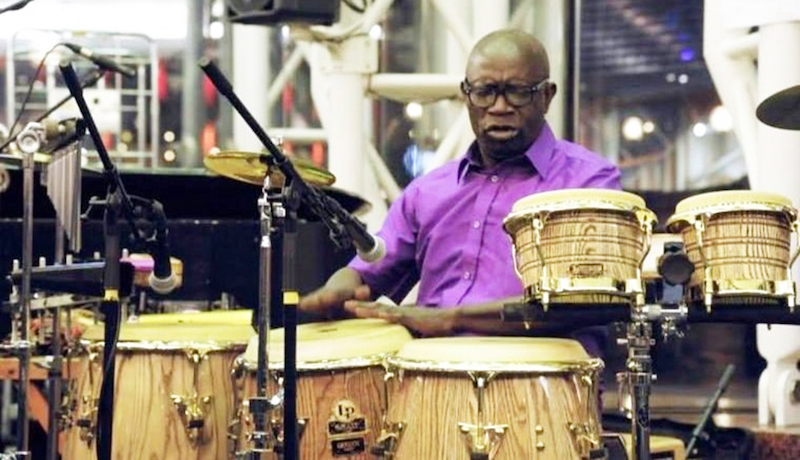 Grammy winner Babalola to perform in Lagos
Ferdinand Ekechukwu
As a prelude to his homecoming concert in Lagos today, two-time Grammy-winning musician Lekan Babalola released a new body of work earlier this year, titled 'Mr. Lakaye ', on local and international digital stores. The 11 track album embraces a mix of jazz, funk and world music with the signature touch of Afrobeat. This would be the repertoire on which the master percussionist will satisfy the appetite of his African fans and music lovers with his self-produced album.
Guests at the Windy Cool Music Party for his album listening night, which promises to be an eclectic mix of musical influences, would have the chance to see the 61-year-old reigning at Ogidi Studios in Lekki Phase I, Lagos. A statement attributed to Winifred Okpapi, Head of Strategy, Arts & Talents, said: "We are privileged to have one of the greatest among us and this is just the beginning as we recount his story. Being a master percussionist and brilliant curator, we look forward to having you with us at the prestigious Ogidi Studios to learn more and see him in action.
Babalola is well known for his innovative musical style, using his native Yoruba language steeped in traditional music, Afrobeat and funky dancing. Her voice is known to explode in Yoruba to a bouncy melody enriched with contagious electronic elements and complemented by her signature percussion sound. The title track of the album "Mr Lakaye" is packed with overwhelming pop influence, evoking the pop and soul train fever of the 80s. 'Time Come', the first track of the album is a tribute to the father of the percussionist, Olayiwola Babalola for his contribution to the composition of gospel music.
Babalola's father was the church choirmaster and accordionist. As a composer, his father made him sit down at the age of six to play the drums or the cowbell while he composed and arranged songs. This childhood experience became very influential in his musical career. He then formed a quilting group with his peers. Another profound influence on the sound of Babalola is the Afrobeat King himself, Fela Kuti. One of the songs on the album, 'Your Highness', which has a video filmed in Lagos, precisely on the island of Lagos, is an afrobeat track that praises Fela.
Babalola is known to be the first person that Fela Kuti rented out his famous New Afrika shrine in 1987. Additionally, he introduced the Fela Kuti fan club to the world, running it from his Kalakuta residence on Gbemisola Street, Ikeja. The elder had direct experience with the evolution of Afrobeat and the promotion of African ideology by Fela. The Yoruba worldview forms a powerful crust in the sound of Babalola. He satisfies the curiosity of his Western audience with the essentials of mythology and history which he breaks down beat after beat.
One of Nigeria's most accomplished musicians, Babalola has jointly won the Grammy Awards twice. He first won it in 2006 for his work on Ali Farka Touré's In the Heart of the Moon, and has been credited on three songs. He won a second Grammy in 2009 for his work on Cassandra Wilson's album Loverly.
Also in his professional career, his percussion skills were honed after joining a group called the Samba Samba Band and later the New York-based group Art Blakey's Jazz Messengers, playing Bongo drums and performing in jazz music. Upon arriving in the UK, Babalola went on to work with notable artists such as Prince, Ernest Ranglin, Branford Marsalis, African Jazz All Stars, Roy Ayers, David Byrne, Damon Albarn and Tony Allen, among others. His long-standing romance with Anglo-European culture and music in particular has borne another fruit: a woman, Kate Luxmoore with whom he has five children.
Luxmoore was his musical collaborator and composed a few tracks on the album. His previous albums include Songs of Icon (2006), Kabioye (2005) and 12 Package (2005). Babalola has lived in the UK since 1980 when he left Nigeria for the UK to study Automotive Engineering at the Chelsea College of Aeronautical and Automobile Engineering after winning a Lagos State Scholarship. He however dropped out of the engineering program for music and then enrolled at Central Saint Martin's College of Art and Design where he studied film. He continued his studies at the Northern Film School where he obtained his master's degree.