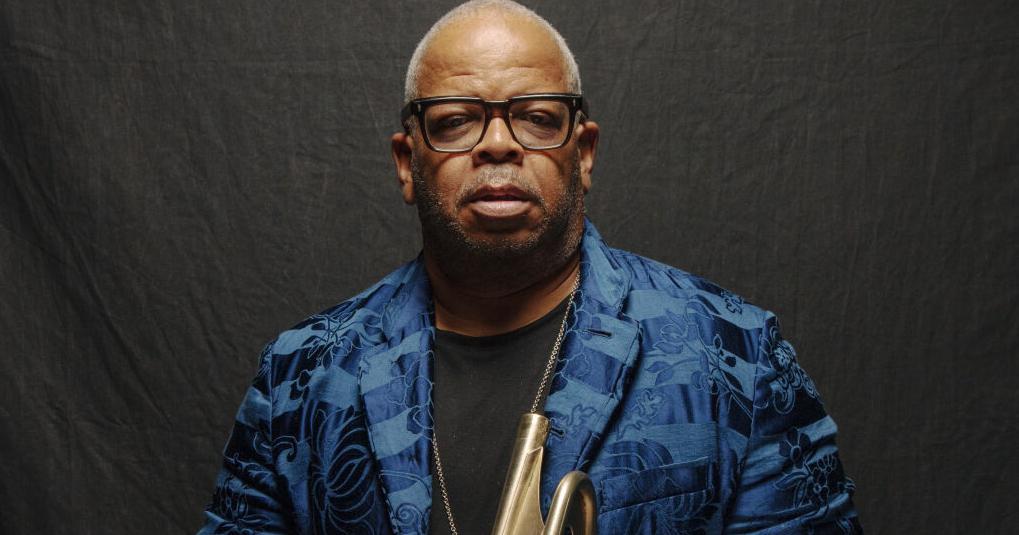 Grammy-winning trumpeter/composer Terence Blanchard performs his Wayne Shorter-inspired 'Absence' at Mass MoCA | Berkshire landscapes
The performance was broadcast live to crowds gathered in Times Square and also in a Harlem park. The event placed composer and jazz trumpeter Terence Blanchard center stage on the world opera stage.
Blanchard has brought to this point two Oscar nominations among his many film scores, including working with director Spike Lee. He has created soundscapes for numerous television series. He enjoyed a career spanning over 40 years as a jazz trumpeter, winning six Grammy Awards for his many recordings. As a teenager, he toured with the legendary Lionel Hampton Orchestra, then replaced his friend Wynton Marsalis in Art Blakey's Jazz Messengers, becoming musical director in his early twenties. There he played the music of the band's composer, Wayne Shorter, who became his musical mentor and lifelong friend.
On August 26, Blanchard will perform excerpts from his latest album "Absence", inspired by the music of Wayne Shorter, at the Hunter Center of the Massachusetts Museum of Contemporary Arts. He will perform with his ensemble The E-Collective: Charles Altura, guitar; piano/keyboard/synths Taylor Eigsti; David Ginyard, Jr., electric bass; and Oscar Seaton, drums. They will be accompanied on stage by the Turtle Island Quartet with David Balakrishnan and Gabriel Terracciano, violin; Benjamin von Gutzeit, viola; and Naseem Alatrash, cello.
During a two-week break from touring, Blanchard spoke to The Eagle by phone from his home near Los Angeles, where he teaches at UCLA. "It's beautiful and peaceful," he said, "I went out for a walk and lost track of time."
He still has a home in his native New Orleans, which he visits "not as much as I would like," he said.
He's in the middle of a long album tour.
"The reception from the public has been really moving," he reported, "and the band is just evolving and growing. It was lovely to be with these guys, we created E-Collective there. almost 10 years old now.
Working with TIQ, he said, "We fit in perfectly, it's just a great experience. Because it's an exchange on both sides, they inspire us and then we inspire them. It's an amazing experience and a wonderful thing to be around.
"You should hear them backstage before the show, playing standard jazz tunes. It's quite funny. During the show there is a time when they will play a tune and they always wow the crowd every time.
Writing and recording "Absence" was a labor of love for Blanchard.
"I started to think about how much influence Wayne Shorter has had on our lives, and I just wanted to let him know what he meant to us. I didn't want to wait until it was too late. Too a lot of times we do these tribute albums after they're gone, for me it was about doing it now.
"I've known Wayne for 20 years," he said. He first discovered Shorter's music when he was in high school, "so it's been 40 years now".
"Wayne's music has always been very beautiful and very moving. He was unique in his approach. He's not trying to write the hardest thing to play or listen to. His innovation is to take beautiful melodies and restructure and reharmonize them in a way that makes them feel new. That's the beauty of what he writes. He writes very melodic lines and uses traditional harmony in new ways. It really makes you rethink the function of harmony.
"He's my mentor, the guy I modeled my career on," Blanchard said. "It's not so much about trying to reinvent the wheel as making your own wheel. I have learned [from him] how to give little surprises in the music after establishing a melodic and harmonic framework, it's a nice gesture.
"I studied composition very early in my life, I've always been interested in putting notes and chords together to create music. I come from being a person who likes to take on challenges and, therefore, it allows you to move forward, to grow. Now everything is coming to a point where everything comes together, opera, my film experience, my jazz experience.
On opening night at the Met, he said, "a 92-year-old woman got on the train in a wheelchair, she had to see what was going on at the Met. It's stories like that that make you humble. It really makes you want to work hard in your craft to do it right, because there are so many people who are counting on you to achieve the goal.
"We've been thinking about him for a long time, and it was great to have this opportunity," said Rachel Chanoff, curator of performing arts and film at the Mass MoCA for more than 25 years and founding director of The Office Performing Arts. + movie. "The Mass MoCA is about giving artists a platform to do work as well as showcasing them, so he's someone we're very interested in.
"We haven't done a lot of jazz at the Mass MoCA over the years, it's a serious American art form and not always highly regarded," she added. "Terence is not only a brilliant performer but also a composer, as an artist he is so important in the world. He works across the porous border in film, opera, and direct music, so he's truly emblematic of a lot of the artists working at the Mass MoCA.
"We had people from William Kentridge and Angelique Kidjo who are really messengers for us. Presenting an artist like Terence Blanchard is really what we think as curators.
Last fall, Esperanza Spalding presented "Iphigenia," a project she developed with Wayne Shorter and Frank Gehry at Mass MoCA.
"She was an architect, a legend and a pioneering woman in jazz, there were so many elements to this work," Chanoff said. "Wayne Shorter is just a jazz god, he's such a musician, the density of his music and the depth of his talent is extraordinary. We feel like part of the community and audience ecosystem of Mass MoCA and North Adams and surrounding areas, as well as the family of artists we have developed over the years.
IF YOU ARE GOING TOWhat: Terence Blanchard with the E-Collective & Turtle Island Quartet
Where: Hunter Center, Mass MoCA, 1040 Mass MoCA Way, North Adams
When: 8 p.m., Friday, August 26
Tickets: $39 advance; $49 week off; $65 preferred seating
Reservations and information: 413-662-2111, massmoca.org
COVID Protocols: Mandatory masks inside.