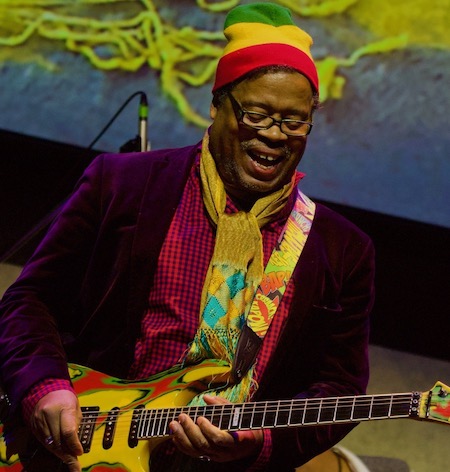 In Memoriam: Greg Tate 1957-2021
---
News, Burnt Sugar The Arkestra Room
By Howard MandelIDecember 14, 2021

The death of cultural critic and practitioner Greg Tate in New York City on December 7 unexpectedly interrupted the career of an exceptionally insightful and expressive voice on jazz and other music, visual arts, politics and race in America. . He was 64 years old.
A vernacular poet, Tate's colorful but scholarly writing emerged in the early 1980s in publications such as DownBeat, Village Voice, Vibe and Spin magazine, covering the work of artists ranging from Miles Davis, Ornette Coleman and Cecil Taylor to Michael Jackson, Public Ennemi and De La Soul. Credited in tribute obituaries in The New Yorker, The New York Times and NPR for elevating rap and hip-hop analysis to academic levels of detailed insight while supporting a general readership, Tate based his reporting and his opinions on in-depth knowledge of world black history and white heritages of art and philosophy, too.
His mission was clear from the first sentence of "Cult-Nats Meet Freaky-Deke," his 1986 Voice article. "Somewhere on the path to probable insanity or meaningful life," he writes, "I decided that what black culture needed is popular poststructuralism – accessible writing that seeks to deconstruct all of black culture. … The future of black culture demands that this generation produce a wise and wise intelligentsia of the world.
While Tate's work demonstrated flawlessly and was intended to advance African American empowerment and agency, he was neither doctrinal nor exclusive. Rather, his perspective of inclusion led to influential considerations about painter Jean Michel Basquiat and the Whitney Biennials in ARTNews, guitarist Carlos Santana, novelist Don DeLillo, academics Henry Louis Gates and Robert Farris Thompson (deceased November 29 ), among many others. Many of Tate's essays are collected in Flyboy in Buttermilk (1992) and Flyboy 2: Reader Greg Tate (2016). His most recent article, "Afropessimism and its Discontents," appeared in the September 17 issue of The Nation.
Tate believed that in the 20th century, "Much of what America sold to the world as uniquely American in character – music, dance, fashion, humor, spirituality, popular politics, slang, literature, and sports – was uniquely of African-American origin and design. and inspiration. … (Today, contrary to Thomas Jefferson's widely known notions of black cognitive inferiority, the grandsons and daughters of the products of pre-war America's slavery have become masters of the creative profile. of the nation.
Not only by documenting this profile, he helped elevate it.
In 1985, he co-founded the Black Rock Coalition with trumpeter Lewis "Flip" Barnes (his college roommate) and guitarists Vernon Reid and Ronny Drayton. In the late 90s, he became the head improviser / guitarist / beat producer of Burnt Sugar, the Arkestra Chamber (which recently released Angels on Oakanda, his 20th recording). Recalling his transition from expert to participating in a Zoom call at the end of last September, he said: "Like everyone in my high school, I was in a small r & b group and tried to play guitar, but I dropped it. Years later I woke up one morning and said, "I can't not do that. At least I have to try my hand at starting a band and writing songs.
Inspired by Miles Davis Bitches Brew, James Brown, the driving protocols of Lawrence Douglas "Butch" Morris, the Parliament-Funkadelic tribalism of George Clinton and the ECM production style of Manfred Eicher, Tate originally interpreted Burnt Sugar as a loose amalgam of collaborators. However, following international press attention and touring, repeat performances at the Apollo Theater and Lincoln Center and acclaimed albums such as the rites (for which Morris created spontaneous arrangements of Igor Stravinsky's themes), Burnt Sugar stabilized its core staff.
Tate is also the author of Midnight Lightning: Jimi Hendrix and the Dark Experience (2003) and editor of Everything But The Burden: What Whites Get From Black Culture (2003). He bestowed this title on a poem by his mother on the appropriation and exploitation of African-American creativity, a subject of paradoxical complexities that he, like the critic Amiri Baraka before him, saw spread to the fields sociological, economic and commercial.
Born in Dayton, Ohio, to parents active in Congress for Racial Equality (CORE), at age 13, Tate moved with his family to Washington, DC, where he later graduated from Howard University. Tate's first journalistic experience was with community radio. It broke into publication in alternative weekly newspapers. For the past decade, he has held visiting positions at Brown, Columbia, Princeton and Yale Universities, and Williams College.
Although held in high regard by his colleagues and proteges, Tate was self-deprecating when he spoke of his career, citing a large coterie of distinguished collaborators. Yet his own productivity was unmistakable.
"What is singularly transcendent with jazz is that it allows the voice of a human being to assume universal proportions through self-expression in a collective setting," he wrote. in a two-part review of Davis' Electric Period, published by DownBeat. Greg Tate's life is over, but his efforts will generate new ideas and new art for generations to come. Comic
---
Side-Eye is Pat Metheny (left), Joe Dyson and James Francies.

Martino was blown away as a player and showed incredible resilience in overcoming life's challenges.

Jamaaladeen Tacuma, one of 52 grant recipients, received $ 40,000 to return to his hometown in North Carolina and create a musical workspace.

Roy Hargrove enters the DownBeat Hall of Fame.

Esperanza Spalding performing with the San Francisco Symphony.