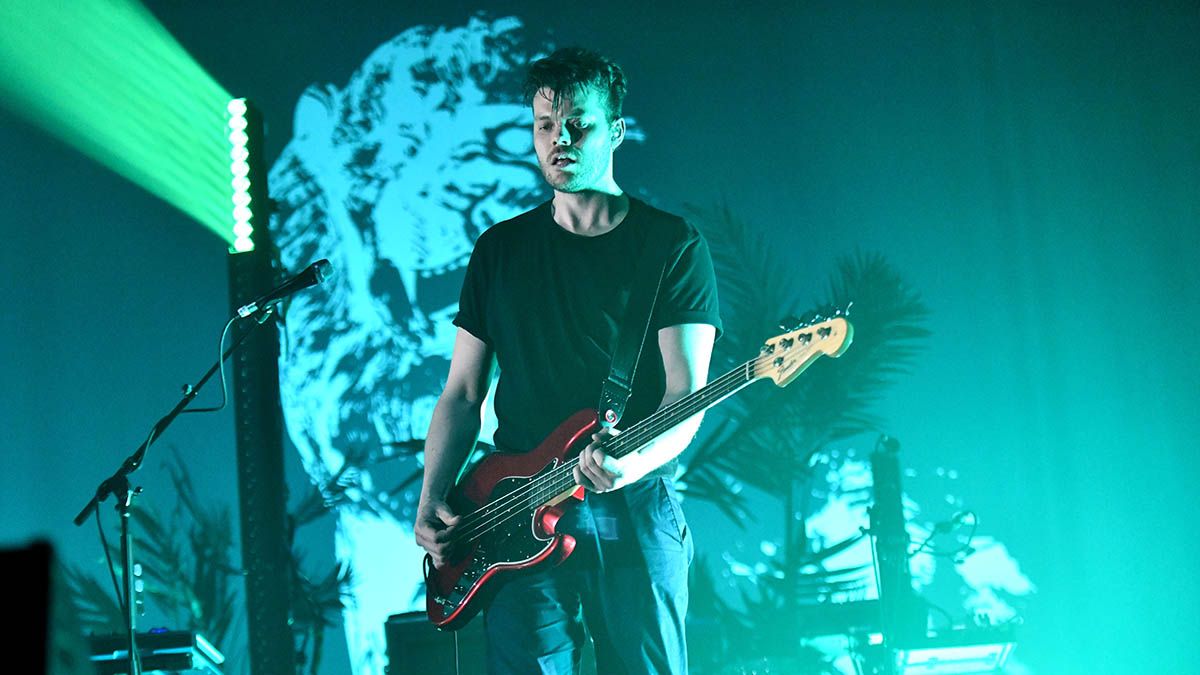 It's all Jeremy Pritchard: "I really like the limits of the bass. It forced me to be creative with the basic elements of the music"
Art-rock is well and truly in the hands of Everything Everything, whose five albums to date have won them numerous awards. Jeremy Pritchard, who also toured with independent giants Foals in 2019, holds the low end.
In both cases, it has to play on major stages and deliver the low frequencies through sufficiently heavy equipment, he explains.
What is your favorite bass gear?
"Live, I use an Orange AD200 head and an 8×10 cab. I have been using them for a few years. At first I didn't expect to accept it the way I did, because in my head I associated it with vintage sound. What I really like about it, however, is how simple it is and how high quality the components are. The controls are just bass, midrange, treble, gain.
Presumably, this gives you a warm, fuzzy 70s tone when you want one.
"He does, but it's also very sensitive. You can set it anywhere – it will sound good. I will use it for life. When I played with Foals last year, it was the same cabinet, but with a Fender Bassman head, which I sometimes also use with Everything Everything. "
And the bass?
"Basically Fenders, but I also add a few other songs to it, like a Hofner Club, which I love. And I have an old Rickenbacker, which I got when I was 19 for £ 200, and it's worth about 10 times as much now. It's a 4000, and it's an unusually good sounding Rick, considering he only has one mic. I was lucky with that. When I first started playing, it was the only bass I had that worked. After that I really got down to playing P-Bass and never looked back. "
Do you also play Jazz basses?
"I use Jazzes with Everything Everything, and I used Jazz entirely with Foals last year. Despite huge hands, I really like a Jazz neck. They are so easy to move. "
Are you strictly a four-string guy?
"I've never played five; I don't really have the brains. However, I do a lot of down-tuning, sometimes down to C sharp, but every time I try to play a five, the physique of it blows me away. I could get used to it, I'm sure. The rest of the band in Everything Everything would love this. They are really pro five-string and really pro fretless. I am the stick in the mud. It's really interesting: our philosophy is to do away with everything that is not cool. We want to embrace it.
Do you have a crankset?
"I do. I'm using an Origin Effects Cali 76, which is basically an 1176 compressor. I've never used a compressor before, and it's such a subtle pedal. It really makes a huge difference. is never turned off.It has very well calibrated attack and release settings – you can make the opening pick sound quite cocky and tight, but that's not going to overwhelm and shock the sound.
"And then I have a Boss OC-2, and a chorus pedal. I got into these two pedals about five years ago, in part because there was a lot more synth programming in the music. I was like, "How do I fit into this and how can I mimic what synthesizers do?" "
Do you keep the chorus subtle or is the tone very sharp?
"The chorus is more of a functional thing – just to get the bass out of the dirt. You don't hear it and don't necessarily think of Peter Hook, although there are a couple of places where I deliberately scam him. It's quite subtle. And then I have a SansAmp Tri-AC for three different gain stages.
"For the fuzz, I have a Malekko B: Assmaster, which is really, really volatile – you have to be extremely careful with how you set it. It really sounds amazing. Then I have a pedal. delay, which I used for a few songs on Everything Everything's Fever dream album.
"Again it wasn't something I expected but I adjusted the delay to double the pace. But overall my card is pretty minimal – I don't really use a lot of effects. If I change the sound, it tends to happen on the bass guitar rather than the pedal board. "
How much bass do you take on tour?
"That would be the main P-Bass – the old Precision 1969 in Olympic White, which I love – and then a spare for that. Then a Jazz, the Hofner Club and a Fender Mustang, and the Rick too. So that's six and more spare parts, but I'm trying to cut that down, keep it simpler, and stick to the idea of ​​having just one bass. I think I've come to the point where I want to have multiple instruments and show myself off, but there are certain songs that I think require a particular sound or a particular approach.
"It's quite difficult to get away from it. If it's a long-haul flight and I can only take two basses, I'll take a Precision and a Mustang, because I feel like I can do anything in between. I love Mustangs. I'm a real fan of them – they're so hard to beat, sonically. I'm always surprised how they stand out from the mix: they combine really well with synths and effects. The only reason I don't play them more is because I'm so tall that I look a little silly with one. "
What is your size?
"Six three – big enough to look a little silly in a small-scale Mustang. It might be different if they made a full-scale Mustang, I always wonder why Fender never did that.
It will be Custom Shop work for you when you earn your first million.
"Maybe … but the short scale is part of the punchy sound." "
Tell us how you got to play bass.
"When I started high school I really wanted to play the drums, but my parents told me about them because they were loud and expensive. My dad was a guitarist, so he pointed me in that direction, and I got an acoustic guitar for my 12th birthday. I had played the cello as a child, so I subconsciously understood the role of a bass instrument within an ensemble – and the school had an electric bass, but no electric guitars, so I turned to this much cooler instrument. "
Were you better suited for the role of bassist?
"There is something to be said about the mindset of bassists. It's less glamorous work. I would never go so far as to say it's egoless – no one would accuse me of that – but it's an overall instrument, isn't it?
"What I love about bass is playing with other people. I don't really like playing bass on my own. Also, what I really like about it are the limitations of the instrument. It made me think and be creative with the basic elements of music. I really like the thoroughness of that. "
Did your cello playing make your electric bass playing easier?
"I think so, once I understood the different settings and it was wrapped. The way you control harmony from the ground up was something I had already understood, subconsciously. "
Who were the bassists that you admired?
"When I first started playing bass I listened to Blur a lot, and I've since realized how influential Alex James is. He's very interesting, because – like another of my favorite bassists, Andy Rourke of the Smiths – he's overshadowed by a visionary guitarist, and he doesn't take himself very seriously as a musician, but he's better than he is. don't know or care. about.
"Besides those two, I also loved Paul McCartney, Colin Greenwood of Radiohead and James Jamerson. Obviously, Jamerson had influence over everyone, and Colin Greenwood had that kind of cellular thing – he often played like a loop, which I loved – and I was really into the personality and the presence, as much as gambling, from people like Paul Simonon.
"Nicky Wire of the Manic Street Preachers was the same, because he was a key polemicist. These were people who presented the role as not being something that was retired or in the back: there was a personality there as well. "
Are you impressed by current bassists?
"The last bass player to really wow me was Carlos Dengler from Interpol, who seemed to have no regard for what you were supposed to do, or not do, on bass guitar. He is everywhere. His playing is full of really cheeky stuff, like octave jumps in an almost disco style, with New Order and Joy Division. On that note, there was also Peter Hook: it's so hard to ignore. His playing was so powerful and unusual. "
They are all players with authority and presence, for the most part without being conductors.
"Yeah, I guess that's not the kind of bassist Victor Wooten or Flea are, but they're memorable without being a frontline. If you can handle this, it is the discipline that matters most. "