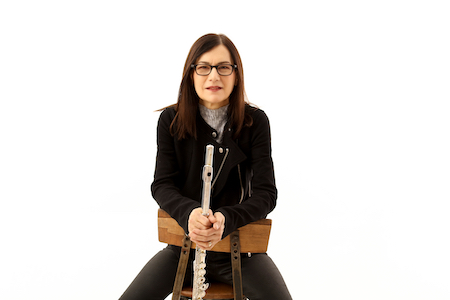 Jamie Baum Septet delivers poetic reflections on the pandemic
---
By Ken MicallefIMarch 15, 2022

The Jamie Baum Septet burst into Dizzy's Club in New York City last February with the premiere of a variety of pandemic-inspired music.
Inspired by journalist Bill Moyers' online series "A Poet A Day, Poetry for the Pandemic", Baum has created new music filled with intersecting odd meters, unusual ensemble phrases, thought-provoking structures and homophonic melodic scenarios in dense arrangements that produced wonderful solos. Baum's music was far from the typical head/solo/head/bridge/head cover formula of much contemporary jazz, but rather fresh music for flute and ensemble that opened up new avenues of improvisation and solage possibilities. for her, very united and extremely well tuned. , sympathetic septet with Baum on flutes, Jonathan Finlayson on trumpet, Sam Sadigursky on alto saxophone and bass clarinet, Chris Komer on French horn, Brad Shepik on guitar and singing bowls, Luis Perdomo on piano, Ricky Rodriguez on acoustic bass/ electric bowls and vocals, Jeff Hirshfield on drums and guest vocalist Aubrey Johnson.
"I wanted to choose poems that would express, in a programmatic way, some of the things we're struggling with during COVID, what it's like to be in the middle of things, how it affects us, and how we might learn from it. lessons and grow or grow out of it," Baum said in a phone call days after Dizzy's performance.
Describing it as "programmatic music," Baum's new work featured a natural rise and fall, ranging from intense ensemble passages to freer blowing sections. from Perdomo, Baum's subtle but intense playing on the soprano and alto flutes (with the use of octave and reverb pedals), and Hirshfield (Baum's husband) providing the oscillating glue that held it all together.
This diverse line-up, performing Baum's highly evolved material, inspired powerful and powerful solos. From the avant-garde leanings of Shepik and the Afro-Cuban mastery of Perdomo to the fluid and driving accompaniment of Rodriguez and Hirshfield based on years of work on the New York jazz scene, the musicians have always met the demands of the compositions of Baum.
"I like to bring together people who have a similar concept in terms of openness and listening, but who have different styles, in a way, because I think they can inspire each other. and that it makes the music more interesting to listen to," Baum explained.
"The first track, 'In The Light Of Day', with the singing bowls, I wanted to give the impression of living in a big city, where it's frenetic and where you don't really take the time to smell the roses, so to speak. Just kind of going about our crazy day-to-day business," Baum said.
"'To Be Of Use' by Marge Piercy is about the value of the simple life and how we have undervalued it. During the pandemic, we have valued essential workers, frontline workers. Grocery workers or those who deliver food have become incredibly important," Baum continued.
"In "An Old Story," by Tracy K. Smith, she wrote this as a new story for the 21st century, a time characterized by great social and political division. The end of the piece becomes brighter and more joyful; there are two sections," she added.
"'Dreams,' I wrote in honor of a deceased cousin. He fought a long battle with cancer and was very brave. He begins with the French horn and the bass clarinet, then moves on to the piano. The idea of ​​finding courage and hope wherever you can. This is part of what we have to deal with now.
"Then two pieces by Adrienne Rich, where she notes how we lost sight of each other as a collective. The idea that people take care of each other. "What Kind of Times Are These" was inspired by a poem by Bertolt Brecht. During the Nazi occupation, he wrote: "When is it almost a crime to talk about trees?" It's about keeping silent about so many bad deeds.
Baum writes for musicians and music lovers, compositions based on the past but not indebted, performed by musicians ready to explore and take on challenges.
"It's been my goal to write and record new kinds of improvisational opportunities, and also to create a different platform for how we hear jazz flute," Baum said. "A band using the trumpet and the bass clarinet and the French horn gives more weight to the flute, instead of having a tenor saxophone and a baritone. The musicians tell me that they love the compositions; it is well written so that they feel challenged. comics
---
"To me, Roy Hargrove was one of the most dedicated stewards of this music, the black American tradition," said trumpeter Theo Croker, who considered Hargrove a mentor.

Don Byron fires no shots while passing the "test".

"I always wanted the oldies to be there so I could make sure I was going in the right direction," Kenny Garrett said of his relationship with the jazz legends.

The cooks are, left to right, George Cables, Billy Hart, Donald Harrison, Eddie Henderson, David Weiss, Billy Harper and Cecil McBee.

Tierney Sutton, right, and Serge Merlaud.