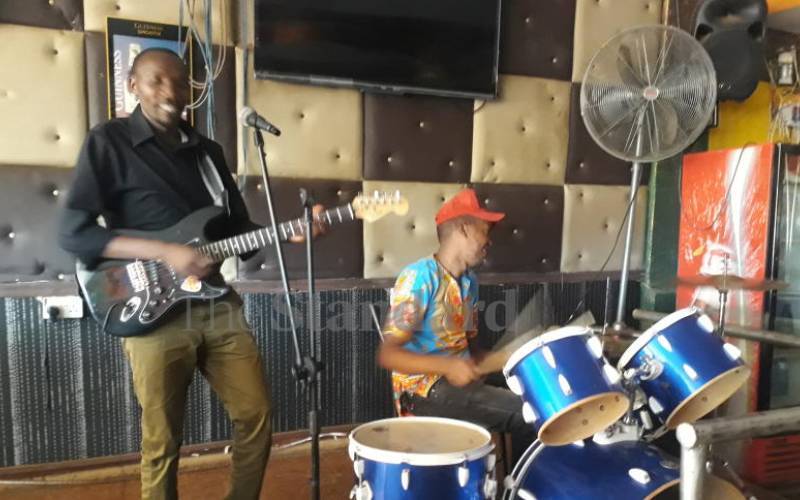 Musical fusion as benga meets urban genres
A few years ago in Kenya, vernacular music was becoming a marginalized affair to the detriment of urban musical genres.
Most youngsters prefer to associate themselves with Trap, Drill, Shrap and Amapiano while they despise Benga, Mugithi, Ohangla and Rhumba.
Lately, however, the tables have turned and these songs are no longer a reserve for the older generation. And with the evolution of the music scene and the appearance of new genres, we have seen the fusion of genres on all levels.
When legendary Kikuyu musician John Boniface Maina, better known as JB Maina, featured dancehall artist Wyre in his hit song Mwanaké, it was a big deal because such collaborations were unheard of.
JB, popularly known for songs such as Ni Sorry Muno, Tiga Kumute and Mundia Tawe made a remix of Mwanaké, which wasn't just another kikuyu song, but also became a club banger. Wyre released his Jamaican lingo and the final mix was pure bliss.
Another act that was not only surprising, but also showed how different versatile worlds could collide was when 125 dropped the track. How do we do with the support of the "King of Mugithi" Mike Rua.
The danceable tune shot at the Alchemist Bar brings out two very different genres of music in a perfect blend, with the lead guitarist known for his obscene lyrics and guitar skills that almost surpass the youngsters.
Kenyan music combines established global genres such as soul, house, reggae, RnB, hip hop, trap, country and rock with local sounds such as benga, rumba and traditional folk.
Traditional musical instruments like the Orutu, Nyatiti and Ajawa, as well as classical instruments and arrangements, are used to create a rich and unique sound.
Pioneers of what we would call alternative acts such as Makadem experimented and adjusted their Ohangla and jazz lines to "nyatititroniks".
It's a trend among alternative acts that is redefining the musical sphere.
A few months ago, bengatronics, a retrofuturistic exploration of Benga music in Kenya, released their album Kiunga 2also nicknamed Fire Kiunga.
Many are familiar with the Benga sound; elaborate guitar licks that are often too quick to grasp and crisp percussion, which gets feet and hips moving almost of their own accord.
This particular musical masterpiece, a 10-track cultural exchange album, was a clash of African folk and pop cultures.
This project was a first of its kind and incorporated traditional instruments such as Adungu, the Mqess, Nzumari, Bongos, Bendir, Benga Guitar, Masinqo, Orutu, Guembri, Tam Tam (Tbilats), Taarija, Tbal and Nakouss, just to celebrate the rich diversity of African cultures.
And earlier this month, 254 Brewery hosted a one-of-a-kind event dubbed "Folk Fusion Extravaganza" which was headlined by top Afro-fusion artists in Kenya including; Yaba, Ayrosh, Akoth Jumadi and Winyo.
It shows how artists are embracing their different cultures and bridging the gap between vintage hits and urban releases.
Winyo
Shiphton Onyango, aka Winyo (Luo word for bird), started out as part of the critically acclaimed and accomplished Rateng' trio, cutting his teeth as the band's songwriter, vocalist and guitarist. Winyo is now a highly sought-after composer and songwriter, who has written songs for many chart-topping artists in Kenya, including Tusker Project Fame winner Valerie Kimani, and won critical acclaim as a writer and voice behind the hook of Ukoo Flani Mau-Mau. Angalia Saa. As a solo artist, he released his debut album Benga Blues while touring Europe, performing in Germany, Italy, Romania and France, which was later released the following year in Kenya and the international. More recently, he has worked with Afro House legends Suraj and Kate Chege, releasing a five-track EP with Gondwana KE.
Samidoh
Samidoh, a well-known Mugithi musician, has been in the music industry for quite some time now. He first started as a backing vocalist for Kamande wa Kioi before starting his solo career with the release of Ndiri Mutwe Mwega in 2016. He has since become a household name, with his songs receiving millions of views. His musical roots go back to his early years when he was a member of the Christian Union worship band.
Prince Inda
Evans Ochieng' Opiyo is also known as Janabii. He is CEO of Musical Masters Empire and Band Leader at Malaika Musicals. Indah began his career as Emma Jalamo's drummer before graduating as a backing vocalist. Artist Luo released his first album Cinderella in 2015 and immediately released their second album Tend Wema in 2016. Since then, he has been catapulted to fame due to his controversial Nyakisumu Part 2, which catapulted him to massive fame. Some of his recent songs include; Te Amo, Kido Mar Hera and Mom Watoto. He has collaborated with mainstream artists such as Khaligraph Jones and Bahati.
Emma Jalamo
Austine Odhiambo is a Kenyan Luo-Ohangla singer and songwriter whose success in the music industry is due to the unique genre of his composition. Emma combines Benga, Ohangla and Rhumba songs in a new mix that appeals to fans of all categories. The particular genre of his collection prompted him to name his band Ramogi Ohangla Rhumba (ROR).
Ayrosh
Ayrosh is best known for his futuristic approach to Mugithi (a local genre derived from Benga). Besides organizing the event, he plays alongside other folk musicians revisiting old classics and fusing them with popular genres. He is proud to have graced many stages in Nairobi including Africa Nouveau, Story Moja and Slam Africa. Having already been nominated for various awards – Sondeka Awards (Fusion Artist of the Year) and Café Ngoma Awards (Folk Artist of the Year) – in 2022, Ayrosh is taking things to the next level with new tracks and bigger crowds making sign.
Akoth Jumadi
Jumadi is an architect of the future, creating ethereal folk sounds with contemporary and tribal elements. His work involves weaving together various aspects of Luo Folk, Afro-Soul, Tribal Fusion, Jazz, Taraab and Benga. In her music, she explores themes of love, healing, spiritual emancipation, political liberation and cultural integration in the arts. His debut EP Ere Yo released in 2020 saw his music shape the East African soundscape and push the boundaries of what Kenyan musical identity is today. The Ere Yo tour saw Akoth play several festivals and shows in East Africa and beyond.
yaba
Yaba got his start in the music industry with neo-Benga duo, Red Acapella, before embarking on a solo career that led to him being crowned Prince of Rumbacane, fusing the genres of Rhumba, Trap and Soulful Benga. . His collaboration with the local group 125 on the 2016 track Tabbu led him to seduce young Kenyan lovers of traps. His music has themes ranging from storytelling, youth, love, self-awareness, wellness motivation, and activism.