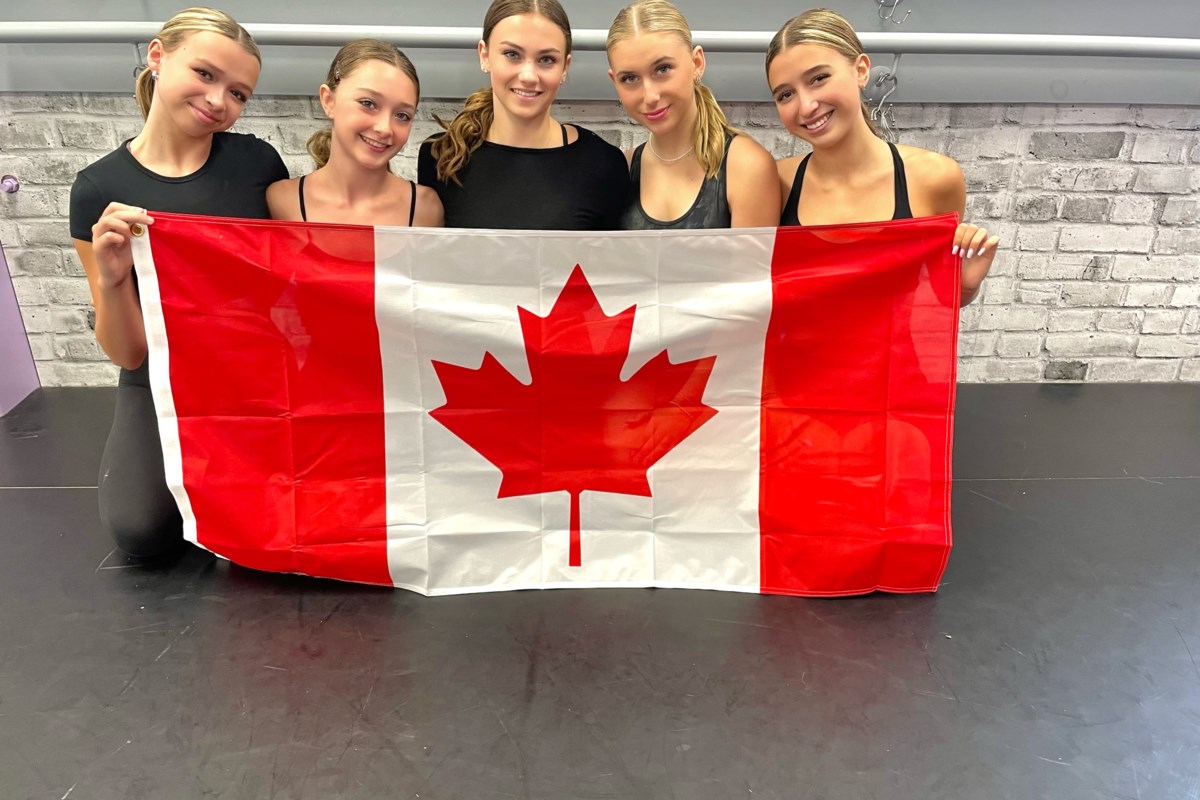 Newmarket dancers compete with Team Canada Dance on the world stage
Five talented dancers from iDance studio in Newmarket will compete with Team Canada Dance on the world stage in Egypt later this fall.
In late November and continuing through December, Team Canada Dance will participate in the International Dance Organization's Ballet, Jazz, and Modern and Contemporary Dance Championships, taking place in Sharm el-Sheikh, Egypt.
Abby Bendelac, 15, Maya Bendelac, 13, Ava Rose Dimma, 16, Tori Muxlow, 17, and Kaylee Welsh, 14, are all members of iDance's competitive program.
The Newmarket-based studio offers lessons for children aged three to adults, both competitive and recreational. It was opened 14 years ago by sisters Rhonda Dimma and Jenny Cairney, who grew up dancing and wanted to share their love and passion for dance with the Newmarket community.
"My sister and I are absolutely thrilled and excited for these five girls. It's a lot of work, a lot of commitment, a lot of long hours of dancing, and it's going to be an incredible experience for them to compete in the abroad on the world stage," Dimma said.
The girls auditioned for Team Canada Dance last spring and all were accepted. They started rehearsing with the team in July and continue to train regularly with them.
"It's been pretty heavy since then, with a lot of long rehearsals, but they've loved every minute of it. It's a different experience because they're working with world-class choreographers and getting used to doing things differently than this. that we do at our studio," Dimma said.
For one of the dancers, Tori Muxlow, it was a busy but exciting journey.
"It's been quite a whirlwind. The practices have been so awesome and the team has come together, super fast. I've really felt involved and really appreciated how much I've worked as a dancer," she says.
She started iDance when she was only three years old and practices several different dance styles, but mostly modern and contemporary. She will compete in ballet, jazz and contemporary at the international event this fall.
Tori can't wait to see other dancers from different countries and teams compete and see their routines. She said "being able to travel and meet dancers from all over the world is an amazing experience".
For Tori, dancing is a big experience in her life and a big part of who she is. Not only does she train regularly at iDance, but she is also part of the dance program at Huron Height High School in Newmarket and wants to teach dance after she graduates.
"[Dance] has kind of been a safe place for me. I grew up there and can't imagine life without having it. And having times where I can express myself, enjoy life, talk about my feelings and the teamwork that I can build with other team members and other dancers," he said. she declared.
Tori is also excited to be part of this next international adventure with the other four girls from her iDance home studio.
"They're all equally talented and I'm lucky to be able to experience all of this with them," she said.
One of these dancers is Ava Rose Dimma, who is the daughter of Rhonda Dimma. Like Tori, she has been dancing in the studio since the age of three and will be competing in all dance styles at the international competition.
When asked what she loves most about dancing, she said, "I love obviously being able to be with my friends and doing what I love."
For Ava Rose, like all five girls, this is her first competition with Dance Team Canada and although she said it was a big adjustment at first, she is comfortable with everything and having fun. .
"I'm very proud of her. I'm super excited, also to share the trip with her because every dancer has to bring a chaperone so of course the moms go too. I wouldn't want to miss that one," said Dimma.
That means she'll be able to watch Ava Rose and the others from her studio dance live, which she says means a lot since most of them have been at iDance for at least 10 years.
"We have to watch them grow and train and become these beautiful young women and dancers," she said.
This isn't the first time the studio has had girls compete with Dance Team Canada, however, it's the first time in a few years as the pandemic has prevented international competitions from being held. The competitions will take place in Egypt from November 28 to December 4.