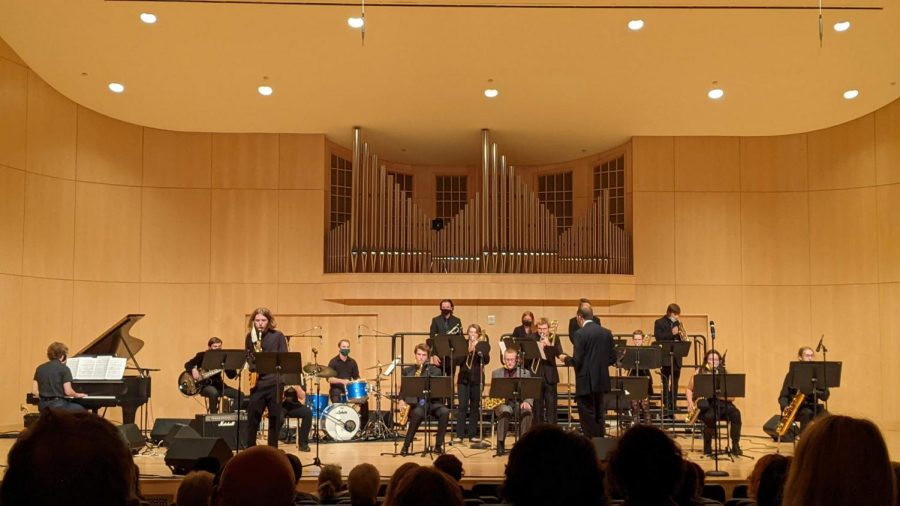 NMU Jazz Combo to Provide Live Study Music Ahead of Finals – The North Wind
For the second year in a row, the NMU Jazz Combo will set a relaxing tone for the upcoming Finals week by performing an hour-long set in the lower level of the library. The five-member student group will be in the library on Tuesday, November 30 at 2 p.m. to provide live study music or quiet entertainment for those looking for a study break.
"We're playing in the library as a treat for the students who are busy studying for the upcoming finals week," said alto saxophonist Owen Edwards. "We know it can be a stressful time and jazz music can often help with stress relief due to its cool and laid back nature."
Edwards has been in the Jazz Combo for over a year with Ethan Matteson on guitar, Garrett Peacock on tenor saxophone, Ryan Wilson on drums and Oskar Gaenssle on bass.
They will perform a number of classic jazz standards as well as original pieces written by Edwards and Mark Flaherty, head of the music department. Their selections will be carefully chosen to include more relaxing jazz pieces so as not to create a distraction for those who study.
"I'm very excited to be able to play a slightly different style than what we normally play, because we play very calm and calmer music than we normally would," said Matteson. "I'm also delighted to play with this group, because I also have a lot of fun playing with this group. "
For those who wish to listen to the band but cannot attend in person, the library will live stream the event on their Facebook page.
"I can't wait to share this music with the students at NMU again, at a time when everyone is stressed, it always helps to enjoy great live music to help brighten the mood for everyone," said Edwards said.
The Jazz Combo hopes their music will help others relax and study before the finals, but it also gives musicians a similar feeling.
"It gives us a chance to bring our music [to those] who are usually not able to listen to it, "said Matteson. "Personally, I like to do this to give myself some time to relax and get back to my original state before the busy week of the Finals."