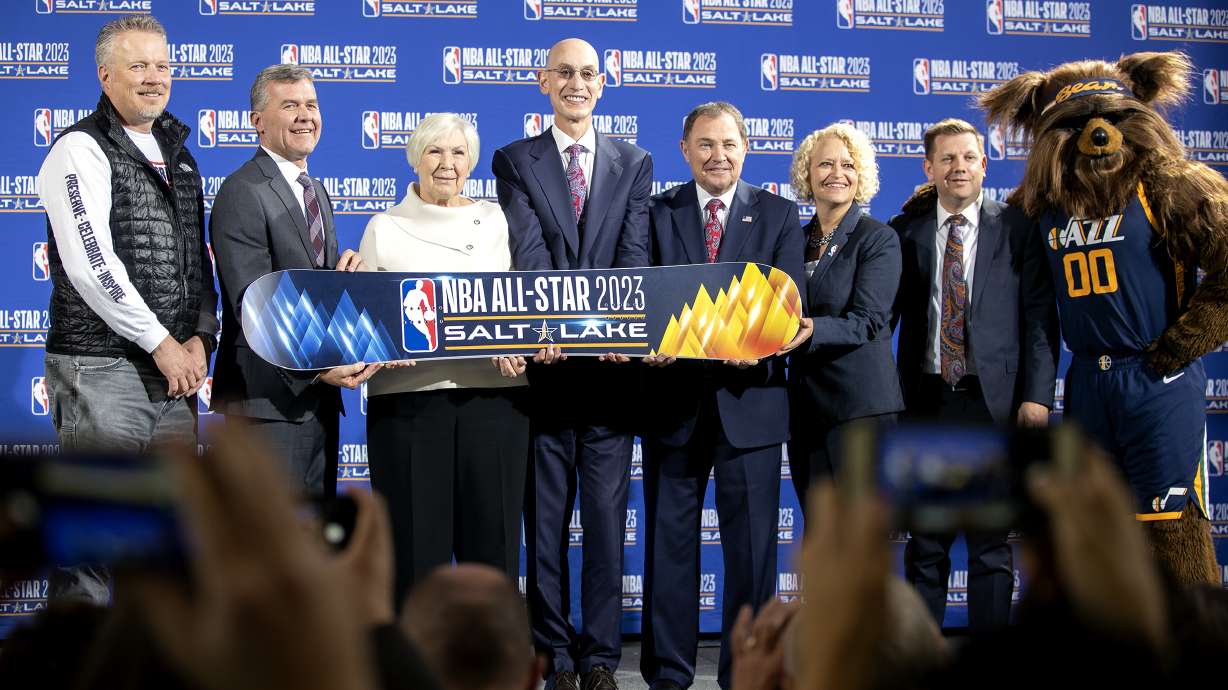 The countdown begins: What we know about the upcoming 2023 All-Star Game at SLC
Greg Miller, Jim Olson, Larry H. Miller Sports and Entertainment, Utah Jazz Owner Gail Miller, NBA Commissioner Adam Silver, Utah Governor Gary R. Herbert, Salt Lake Mayor Jackie Biskupski City, Steve Starks, CEO of the Larry H. Miller Companies, and Bear pose for photos following the announcement that the 2023 NBA All-Star Game will be held at Vivint Smart Home Arena in Salt Lake City on Wednesday, October 23, 2019. ( Scott G Winterton, Deseret News)
Estimated reading time: 6-7 minutes
SALT LAKE CITY — Donovan Mitchell is curious.
Each of his five seasons, Mitchell has competed in All-Star Weekend (although he was unable to compete last weekend in Cleveland due to illness). He's seen how the mid-season show has transformed cities, and he can't help but wonder what's in store for us in Salt Lake City next February.
"How will downtown be? How will Park City be?" Mitchell asked.
The answers to these questions will finally begin to be answered. Jazz owners Ryan and Ashley Smith took part in a "passing of the torch" moment with Cleveland Cavaliers ownership on Sunday, officially kicking off the countdown to Salt Lake City All-Star Weekend.
The Smiths were joined in Cleveland this weekend by representatives from Salt Lake City, Salt Lake County and the Salt Lake All-Star Alliance (11 local companies including America First Credit Union, Coca-Cola, Ford, Larry H. Miller dealers, Nu-Skin, Qualtrics, Toyota, University of Utah Health, Vivint, WCF Insurance and Zions Bank).
The group took part in a future host training program and got a feel for what an All-Star weekend looks like.
In 2019, the Jazz were announced as hosts for the 2023 game. More than two years later, the planning can really begin.
"We've already started planning some pretty big meetings that will start shortly after we get back from Cleveland," Jazz president Jim Olson said.
These meetings will include stakeholders, government officials and the NBA. Heading into last weekend in Cleveland, Olson estimated that 65% of the work remained to be done for next year's event. Why have things moved so slowly? Well, things are a little different now than they were at the end of 2019. Utah has a new governor, Salt Lake City has a new mayor, and the Jazz has a new owner. This will slow down the plans.
Other than that, though, it's a league event, and there's not much the Jazz organization can do.
Not much has changed when it comes to All-Star weekend. Friday will feature a Rising Stars Challenge, Saturday will have the 3-point contest, skills challenge and dunk contest, and Sunday will have the actual match. Other weekend highlights include the annual duty day on the Thursday before the game and the announcement of the Hall of Fame finalists. There is always the possibility of adding new things, like the new HBCU Classic and G-League game "Next Gem".
Vivint Arena will host the major events; the Huntsman Center will host minor basketball events; and the Salt Palace Convention Center will also be used. Pretty much all the details have been finalized.
The countdown starts now ⏲️ pic.twitter.com/DlIHDYzHDy

— Utah Jazz (@utahjazz) February 21, 2022
Although this is a league event, the NBA allows the host team to add their own local flair to the showcase.
In 2018, Utah hinted at incorporating the Sundance Film Festival, and Smith also mentioned Park City when talking about the event this weekend. The annual NBA Tech Summit is also expected to become more prominent due to Utah's leading tech community.
In total, there will be dozens of league-sanctioned events throughout the weekend — and dozens more unofficial — that will give the Jazz plenty of opportunities to put their own spin on things and set the tone. value the region.
"Our expectations are very high," Olson said. "And it's everybody leaving Utah, first of all, saying it was a great All Star weekend and second, Utah is just an absolutely amazing place – and I come back and I come back for other events to visit the holidays, whatever it is."
How many people are coming to Salt Lake this weekend?
The NBA expects 100,000 people to attend at least one All-Star Game event in Salt Lake City, and estimates 40,000 will come from out of state. That's the number the league has given Cleveland this season, and Chicago in 2020 as well. (The 2021 event in Atlanta was mostly fanless due to COVID-19).
So this is more of a cookie-cutter number than a true guess.
A 2017 All-Star Weekend study in New Orleans, 18,911 out-of-towners attended at least one event. It was in party-centric New Orleans. Would 20,000 more people really come to a wintry town that's not really known for its bustling downtown?
Jazz owner Ryan Smith has expressed his desire to see Utah become a bigger city. While it may not have officially participated in the bid to host the event in Salt Lake City, the Jazz see it as a chance to expand that vision.
"We think this is a great opportunity," Olson said. "Look, people are going to come for all the All-Star events, but we also want them to – the easy default is to experience skiing in February – but there's a whole lot more: downtown Salt Lake nightlife and where it's growing, what it's become over time."
Downtown will be a little different. Along with thousands more people and expected branding in the city, there will be dozens of pop-up shops, potentially including a pop-up liquor store. Governor Spencer Cox included $200,000 in his proposed budget for this idea.
What is the advantage of all this?
When the Jazz hosted the 1993 All-Star Game, the event was estimated to have brought the city between $7–10 million (about $13–19 million in today's dollars). It should be higher this time around.
The league claims the event has an economic impact of approximately $100 million. In 2019, the [city of Charlotte reported](In 2018, the Jazz were announced to host the 2023 game. More than two years later, the planning can really begin.) an economic impact of $87.7 million. When the Salt Lake City game was announced in 2018, then Governor. Gary Herbert estimated the impact to be around $45-50 million.
In Charlotte, hotels around the arena doubled in price during the four-day event, and accommodations in the surrounding metro area increased by 80%. A similar effect is expected in downtown Salt Lake, which is expected to have around 8,000 hotel rooms at the time of the event (if 40,000 actually come, accommodations will be hard to come by). Restaurants, ski resorts and other businesses will also see increased activity. Charlotte brought in an additional $4.67 million in state and local sales tax revenue from All-Star Weekend alone.
So that will have an impact. Maybe not a $100 million impact as the league claims, but a huge impact.
It's not yet known how much the event will cost — and who is paying exactly what — but the Jazz do know this: It shouldn't be profitable for the organization.
"When an NBA team bids, they go there knowing it's a great opportunity to have an economic impact on a community and we're putting a lot of our own resources into making it happen," Olson said. "And so, this is seen not as an opportunity to create an economic benefit for the organization, but as an opportunity to create a great community event for everyone in Utah."
And a lot of people outside too.
×
Related stories
More stories that might interest you