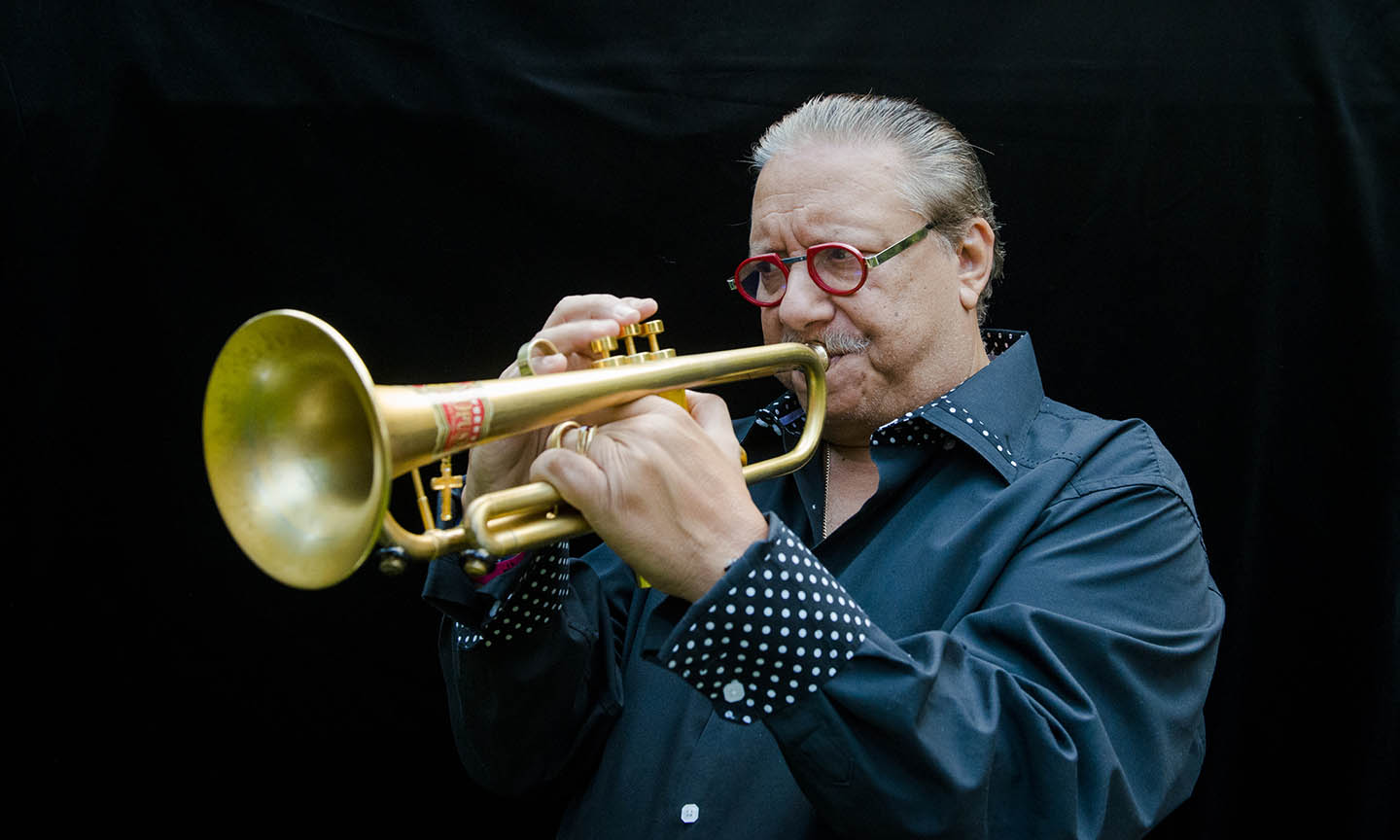 Why Latin jazz trumpeter Arturo Sandoval matters
Cuban-American trumpeter Arturo Sandoval may not be a household name for the casual jazz listener – but he should be. For more than five decades, Sandoval has fused the Afro-Cuban rhythms and beats of his hometown with modern jazz compositions. With a discography of over 30 albums, he has amassed a multitude of accolades: ten Grammy Awards, six Billboard Awards, an Emmy Award, a Hispanic Heritage Award, an honorary doctorate from the University of Notre Dame, and the Presidential Medal of the freedom. awarded by President Obama in 2013.
Sandoval not only fulfilled the American dream, he embodied the spirit of those who paved the way for him. From bebopper Dizzy Gillespie to mambo king Tito Puente, Sandoval has been influenced by the greats and also had the privilege of playing with and learning from them.
Hear the best of Arturo Sandoval on Apple Music or Spotify.
Today, Sandoval is one of the most celebrated and decorated figures in jazz, but his story begins humbly. Born November 6, 1949, in Artemisa, Cuba, the son of an auto mechanic, Sandoval began learning the trumpet at age 12, often playing alongside street musicians, before studying with a Russian classical trumpeter. at the National School of Arts of Cuba. Unfortunately, his passion was put on hold due to compulsory military service. "We used to listen to 'Voice of America', a shortwave radio show, every day, and they played everything from jazz music," Sandoval recalled to NPR in 2013. "It was the only way to hear and be connected to the music we love. Sergeant caught me listening and they put me in jail for listening to the voices of the enemies .
In the 1970s, once discharged from military service, he helped form the Latin Grammy Award-winning Afro-Cuban band Irakere with local musicians. In 1977, a friend informed Arturo of a jazz cruise in the Caribbean, featuring some of the genre's greatest, including Stan GetzEarl Hines and Dizzy Gillespie. (The latter was his musical hero, someone he had been a fan of since childhood.) While the ship was docked in Havana, Arturo landed himself a job as Dizzy's chauffeur, taking him on his first trip to the city. "At that time, I didn't speak English at all," Sandoval explained. "We communicated through a third party who translated for us. But we connected so well from that very first moment…. I never told him that I was a musician myself. When he saw me with the trumpet in my hand, he said, 'What is my driver doing with a trumpet?' »
That night, the ambitious young Cuban performed for the iconic bandleader and blew him away. "That was the very beginning of our friendship and collaboration. And he became my mentor and he inspired me so much. He gave me so many opportunities. In the early 1980s, Arturo found himself in touring the world with Gillespie, as well as performing with the United Nations Orchestra and the BBC Symphony, among other ensembles, but his opportunities were limited due to a restricted travel schedule imposed by the Cuban government.
Due to heavy sanctions imposed by the Castro regime at the time, Sandoval decided to seek asylum at the United States Embassy in Rome while on a European tour in 1990. Within days, Sandoval and his family were President Bush's guests at the White House and were soon granted permanent residency. . Once settled in Miami, Sandoval signed with GRP Records and released his first American album, flight to freedom, incorporating Dizzy's bebop influences with the Latin percussion of his Cuban heritage. "I can't imagine what my life was like in Cuba," Sandoval said, reflecting on her journey with NPR. "I am so happy to be in this country. Every day is a wonderful day for me in this wonderful nation.
" alt=""/>
Collaborations
Versatility has been key to Arturo Sandoval's musical success and longevity. He is uninterested in the categories in which others might place him. "Even though I love bebop, for most people, every time they see my face, they're going to connect it to the Latin thing. And that's such a stupid idea. Not because you were born in Nashville, you're gonna be one hell of a country musician. Or not because you're black and you're from New Orleans, you're going to be a hell of a Jazz player… It doesn't work like that. Music belongs to the human race.
As a result, Sandoval has been passionate about collaboration, since his days with Irakere in Cuba. Whether performing at major festivals in front of thousands or at award shows seen by millions, he has shared the stage with some of music's most iconic figures including Gloria Estefan, Patti LaBelle, Ricky Martin, Michel Legrand, Tito Puente and countless others. He has also worked in the studio for a range of artists, from Alicia Keys to Josh Groban, Rod Stewart to Johnny Mathis, as well as both Frank Sinatra and Tony Bennett's Duets sessions.
In 2019, Universal Music Latino gave him the opportunity to create his own list of artists to collaborate with on Ultimate Duos. Sandoval showcased his many interests by choosing Celia Cruz, Stevie Wonder, Al Jarreau, Plácido Domingo and Alejandro Sanz, among others. The album also included an original composition by super producer Pharrell Williamswith the voice of a global pop star Ariana Grandebringing Sandoval to the ears of young listeners.
" alt=""/>
The Plácido Domingo collaboration on Ultimate Duos was no coincidence. Sandoval is an accomplished classical musician, having performed with symphonies around the world. He even released his own classic album, including his own original compositions. "The trumpet can be whatever you want or have the ability to use that instrument," he once told NPR. "You can whisper it softer than you can imagine or you can make a loud noise like no one else… I love music, period. One of my goals as a musician is to be able to do a good interpretation of as many styles as possible.
Cinema and television
Even if you haven't heard any of his records or seen him in concert, you may have heard Arturo Sandoval's work without realizing it. He created original compositions and scores for the big and small screens, including the 2000 HBO movie For love or country: the story of Arturo Sandoval, with Andy Garcia. He has also worked on many memorable scores, including hidden numbers2013 Supermanand The Mambo Kingsbased on many Latin American musicians who paved the way before him.
Indeed, over the past five decades, Arturo Sandoval has succeeded in breaking down barriers, bringing unity through art and moving our feet – all at the same time. If we're lucky, he won't be slowing down anytime soon.
Hear the best of Arturo Sandoval on Apple Music or Spotify.