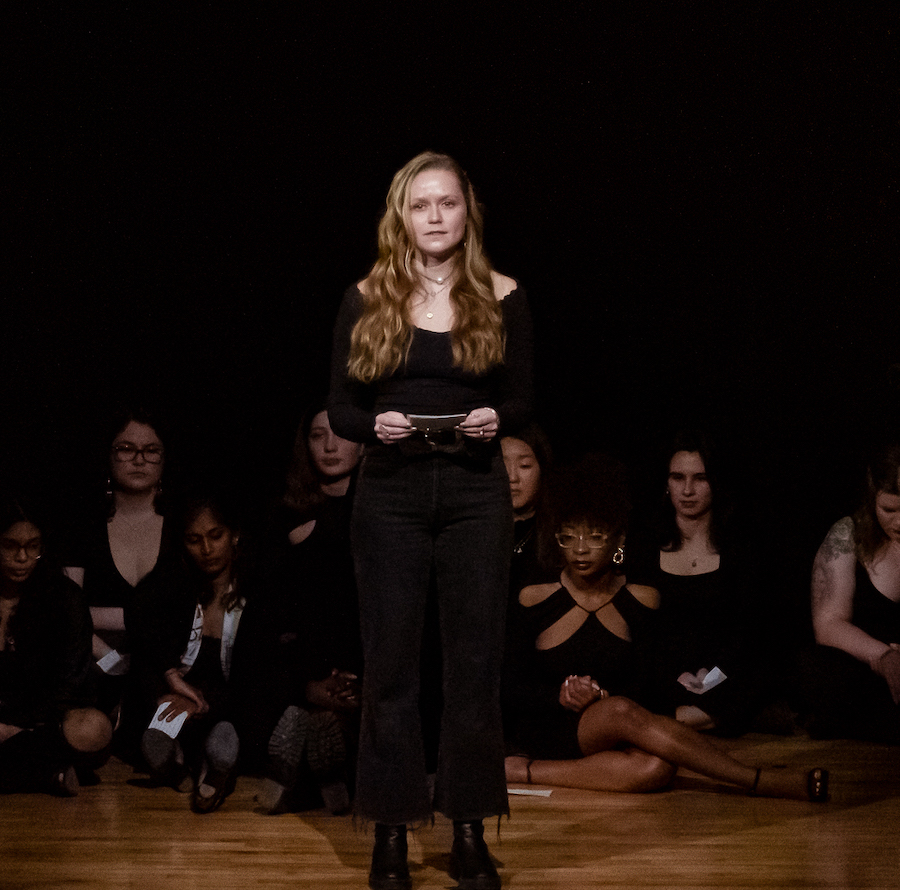 Women's Year in Bowdoin History Month
The highlight of History Month is the ambitious production by the Collège de RISE, untold stories of women Bowdoinput by the student group fEMPOWER, and supported by the Center for Sexuality, Women and Gender (SWAG) and the Office of Gender Based Violence Prevention and Education.
Rachel Reinke, Associate Director of SWAG, said the 2022 performance of TO GET UP highlighted women's leadership, which is appropriate – this year, Bowdoin is commemorating the fiftieth anniversary of women in the College by honoring its "leaders from all walks of life" in a number of ways, including selecting five accomplished women youo receive honorary degrees.
"Like every year, we love to feature stories from intersectional women, but we also wanted to prioritize Bowdoin's student leadership," Reinke said. "We entered TO GET UP for the purpose of elevating leaders. Bowdoin has amazing female leaders among its students, and TO GET UP is just one place where they can shine.
This includes, she added, the 2022 administrators: Adedunmola Adewale '22, Usira Ali '22, Isabelle's Ball '22, Ava Grandfield '24, and Khue Anh Tran '25. The five students led a cast of forty actors who performed over fifty anonymous submissions about the lived experiences and perspectives of women on the Bowdoin campus.
The production process began last fall, when TO GET UP's leaders solicited submissions from members of the Bowdoin community, seeking stories from women of all ethnicities, races, backgrounds and ages. They then wove their selections into a script, auditioned student actors, and staged the play. It was performed to a full house at the Kresge Auditorium on Saturday evening March 5.
The piece featured heartbreaking monologues, light-hearted, comedic vignettes, and dancing by student jazz band VAGUE. Live, free, in-person, and confidential sexual and mental health resources — from the College and Central Maine area — were available during the show, and fEMPOWER members implored Bowdoin students to prioritize to their mental well-being.
"If you feel the need to take a break, we encourage you to do so," Adewale said during the show's introduction. "Feel free to go out if needed."
Ali and Ball, in interviews after the performance, said the experience of bringing the huge cast of actors together in person was the most important part of the production for them. "It was especially special to have it in person with a packed auditorium and to experience those emotions and those stories with the Bowdoin community," Ball said. "Just being able to sit on stage with women on stage and see the audience process, laugh and cry was amazing."
Ali said students have approached her since watching Saturday's performance to tell her how touched they were by the stories. "Our hope was that people would come and watch and take away one thing to implement in their lives, which is if you see someone in need or uncomfortable, check them out," she said.
Since its creation in 2017, TO GET UP was one of the College's most popular performances.
Reinke said the positive reception from the community is in part due to how moving it can be to hear your own story told aloud – if you're one of the authors submitting – or to recognize your own. experiences or feelings in another's story. "Even though the show is challenging in many ways, it's one of the few opportunities on campus to hear directly from students, both about their struggles and their celebrations," she said.
"And the students said there was something impactful about having their writings and the writings of their peers interpreted, not just erased," Reinke continued. "Seeing them elevated on stage is a powerful experience. It's a rare opportunity for women around the world to have so much validation on all of these levels.
Upcoming Herstory Chapters
Herstory month continued on Wednesday with a feminist cross-stitch event at the SWAG center, where participants chose from an array of feminist sayings and designs.
The crafting event was supposed to be a bit light. "We thought about the difficulty TO GET UP east," Reinke said. "Also, March is a busy and intense month for students preparing for spring break, so we wanted to engage them in something relaxing and non-stressful.
As the group began to sew, using patterns with uplifting feminist messages, Devaki Rajiv '22 agreed it was a good opportunity to relax. "Midterm week is a time when everyone feels very busy and stressed, and I love that we took the time to try something new," Rajiv said. . "I feel like most of us coming in had never cross-stitched before, and learning together was a great process."
Needle in hand, Alyssa Stone '22 reflected on the need to have creative spaces in Bowdoin open only to women.
"It helps to have creative output here," Pierre said. "Here at this event, I can say anything, and these women will understand. I don't have to worry about censoring myself.
When classes resume, student organization House of Hearts – whose mission is "to share and learn from aromantic and asexual experiences" – will lead a reading group. They distribute copies of Without loveby Alice Oseman, for people to read during the break, and will schedule discussions for early April.
TO GET UP pictures of Lily Poppen '22. Reporting by Jane Godiner '23 and Rebecca Goldfine.