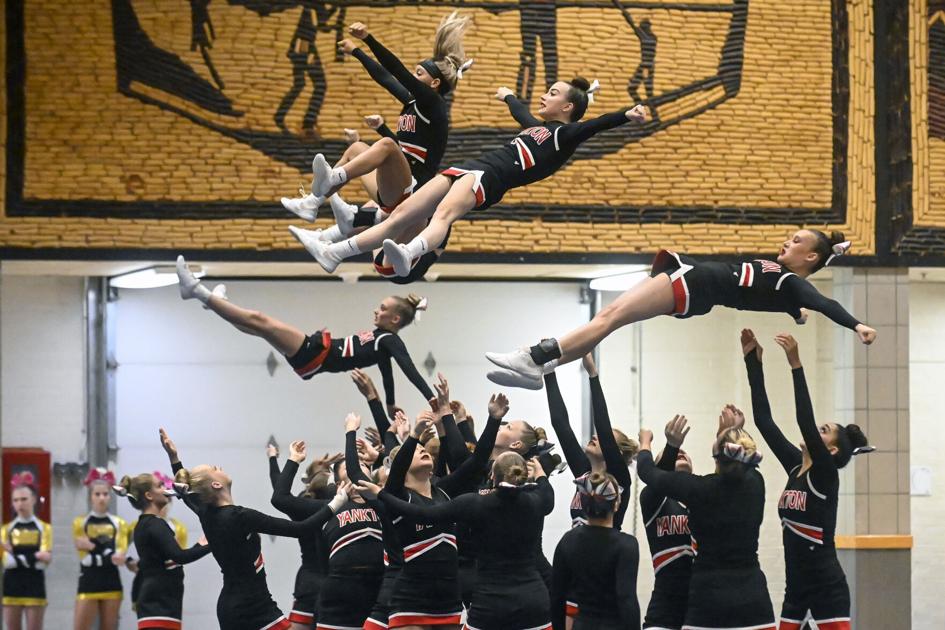 Yankton Dance Team wins Mitchell Inv .; Cheer team sixth | Sports
MITCHELL – Yankton won the dance title and finished sixth in the Mitchell Invitational cheer and dance contest on Saturday at Corn Palace.
Yankton scored 268.75 for top dance honors. The Gazelles also got top marks on Jazz (279) and Pom (258.5).
Mitchell, second overall with 247.75, had the best Hip Hop score (251).
Platte-Geddes finished seventh as a team with 221.25 points. The Black Panthers have scored 218 in Pom and 224.5 in Hip Hop.
Brandon Valley won the Cheer title with a 255, while Mitchell (221) was second.
Yankton scored 181.5 for sixth place. Platte-Geddes (179) finished eighth, followed by Wagner (178.5), Bon Homme (178.5) and Parkston (175).
Yankton has its last tune-up for the state on Oct. 14, hosting the Eastern Conference Championships in South Dakota. The start time is 5 p.m. at the Watertown Civic Arena.
GRAND CHAMPION: Yankton 268.75, Mitchell 247.75, Aberdeen Central 235.75, Pierre 234.75, Huron 233.25, Winner 226.25, Platte-Geddes 221.25, Gregory 201.75
JAZZ: Yankton 279, Aberdeen Central 243.5
POM: Yankton 258.5, Pierre 246, Mitchell 244.5, Huron 224.5, Winner 220.5, Platte-Geddes 218, Gregory 194
HIP HOP: Mitchell 251, Huron 242, Winner 232, Aberdeen Central 228, Platte-Geddes 224.5, Pierre 223.5, Gregory 209.5